Confronting a winter squash, if you've never dealt with them before, can be daunting--they resemble hard-hided ancient beasties! But not to worry--they are easily tamed by cooking, and the easiest of all ways is roasting in the oven.
Basic Roasted Acorn Squash Recipe
--it really *is* easy! Makes 2 servings.
1 medium acorn squash, ~1 lb
1 tbsp unsalted butter, cut into 4 pieces and at room temp (alternatively, you can substitute 4 tsp olive or canola oil)
salt & fresh-ground black pepper
2 tsp packed light or dark brown sugar
Heat oven to 400 F and place rack in the middle. Meanwhile, cut squash in half lengthwise (top to bottom) and scrape out the seeds and stringy stuff. [If I have trouble cutting it easily, and this applies to any winter squash, I wedge a *sturdy* knife just a bit into the squash and then use a hammer to press it down through the squash to the bottom--hit a bit on one side, then a bit on the other--till you're all the way through.] The seeds can be saved and roasted for eating if you want--
for how to roast squash seeds, click here
.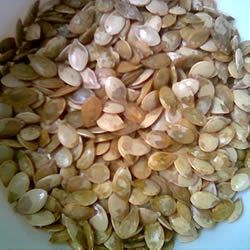 Squash seeds for roasting (source)
Cut a small slice off the rounded side of each half so they'll sit solidly on the baking sheet. Put the halves cut-side up on a baking sheet [you can line it w/ foil or parchment for easier clean up if you wish]. Using your fingers, coat the exposed flesh of each half with 1 piece of butter, then season to taste w/ salt/pepper. Put the sugar and remaining pieces of butter into the cavity of the squash halves. Roast till flesh is fork tender, ~45-60 min. Serve and eat by spooning pieces out of the halves. Enjoy! (
Recipe source
)